Professor Yuriy Pilipenko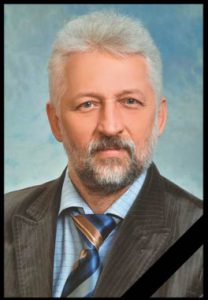 We deeply regret to inform of the untimely death of one of the NACEE members, Professor Yuriy Vladimirovich Pilipenko, Doctor of Agricultural Sciences.
Yuriy Pilipenko was born in Kherson on 28.10.1958. He graduated from the Faculty of Ichthyology of the Kalininigrad Technical Institute of Fisheries and Fish Industry. From 1980, he worked as senior laboratory assistant, senior researcher, assistant lecturer and associate professor at the Department of Fish Farming of Kherson State Agrarian University and held the position of Deputy Dean of the Faculty of Fisheries Ecology. Between 2011 and 2013, he was the First Vice-Rector, Vice-Rector for Scientific and Pedagogical Work of the University.
He defended his Candidate thesis in 1989 and his Doctoral thesis in 2007, receiving the title of Professor in 2008. He supervised PhD and doctoral students in the fields of Ecology, Ichthyology, Fish Farming and Living Aquatic Resources and Aquaculture and was a member of PhD and Doctoral Committees.
As a result of his efforts, Kherson State Agrarian University started BSc, specialist and MSc training of specialists in the field of Ecology and Environmental Protection in 1999, and in the field of Forestry and Garden and Park Management in 2012. From 2000, he was head of the Department of Ecology, combining his teaching activity with productive methodological work. He served as an expert of the State Attestation Commission of the Ministry of Education and Science of Ukraine in the field of Ecology.
Yuriy Pilipenko authored more than 300 scientific and methodological publications in the fields of living aquatic resources, aquaculture, hydroecology and sustainable development of ecosystems, including 5 coursebooks, 27 textbooks, 6 monographs, 2 reference books, 7 scientific technical publications (including one international publication under the aegis of NACEE) and 10 patents. He closely cooperated with Daugavpils University (Latvia) and Kaliningrad State Technical University (Russia) in different scientific, educational and methodological fields. He was a regular organizer and member of international programmes, seminars and fora and cooperated with fisheries research institutions of a number of European countries, such as Italy, Hungary, the Czech Republic, Poland, Moldova, Lithuania, Latvia and Belarus.
He was one of the most active members of the Network of Aquaculture Centres in Central and Eastern Europe (NACEE) and a founding member of its Technical Advisory Committee. He also was the founder and editor-in-chief of the scientific journal "Vodnye bioresursy i akvakultura" (Living Aquatic Resources and Aquaculture).
For his significant contribution to the development of education and the fisheries sector in general, Yuriy Pilipenko received a number of state and sectoral honours, including the honorary title "Honored Worker of Ukrainian Science and Technology" (2015) and "For Excellence in Education of Ukraine".
Yuriy Vladimirovich Pilipenko will be remembered as an excellent leader, an outstanding scientist, a talented teacher, a true friend, a loving son, father and grandfather and a wonderful person who was always full of energy and love of life.
NACEE expresses its condolences to the family and sincerely regrets about the loss.